It was a nutty kind of weather day. It was warm, it was cold. It was windy, it was sunny. It rained, but mostly it didn't rain. You needed a jacket sometimes, but mostly you didn't. On balance, sunblock was in order.
---
A pretty spectacular customized C900 CV, inspired, no doubt, by Joney's drool bucket car from a few years past.
---
A late model Sonett III with 99 style bumpers. Very nicely kept from all appearances.
---
"Mr. President", Bruce Turk, bestows the proper VSCNA decal on Frank's '72 95.
---
The new gen 9
3
convertible is a handsome car.
---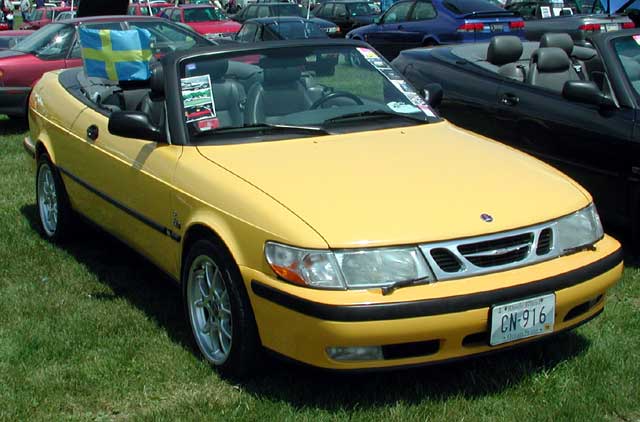 How better to spend a sunny summer's drive?
---
A very nice V4 Sonett. See Chip Lamb's photo of the engine compartment at
http://www.wmsbrg.com/carshow/2006/may/importcarlisle/saab/quinlan4.jpg
. Negligible clearance betwixt the alternator belt and fan housing, perhaps the owner is waiting for the belt to carve a small vee in the plastic...
---
The sweetheart of the show and winner of the vintage people's choice award, Frank's '72 95. All original, just around 85 thousand miles and perfect, right down to the SAAB factory roof rack.
---
Original and perfect, a fine driver to boot.
---
The 96 was just as nice as it looks.
---
I'll take one, please.
---
Chip's European '78 95 complete with big bumpers, headlight wipers and 99 style seats.
---
With all these people lined up you'd think they were giving something away! Not exactly "giving", but the CPSC SAAB only lunch tent was a very popular spot after 12.
---
Jon Williams' car.
---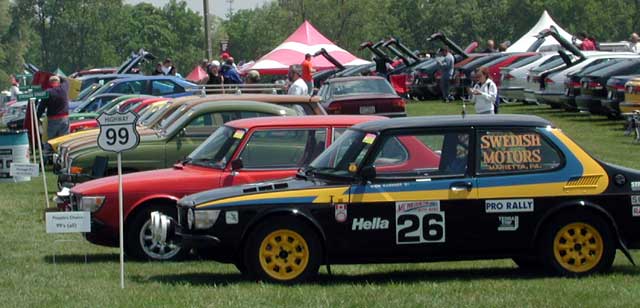 As always, SAABs, as far as the eye could see.
---
---
Ian's Jersey SPG.
---
Another SPG with custom fabbed headers and wait, where's the battery?
---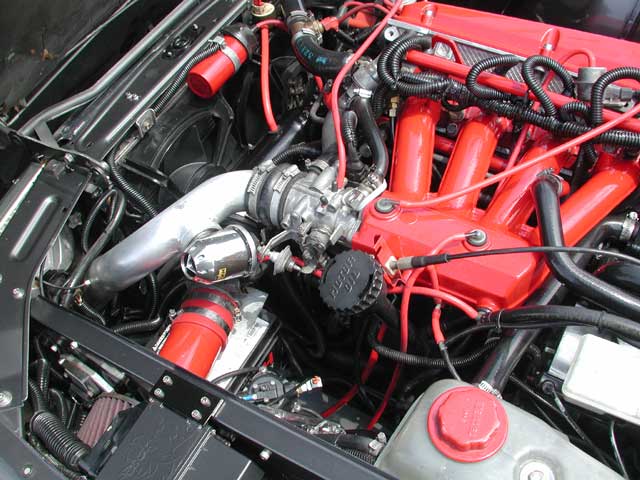 Here it is, down where the air filter used to be. Lacking an AMM, I think this car was a megasquirt conversion.
---
Custom gauge faces.
---
Same car, he could make your ears bleed too.
---
A few of the several 9K Aeros in attendance.
---
Some fairly serious modifications to this 9000 including a custom intake manifold, custom wastegate, and special computer.
---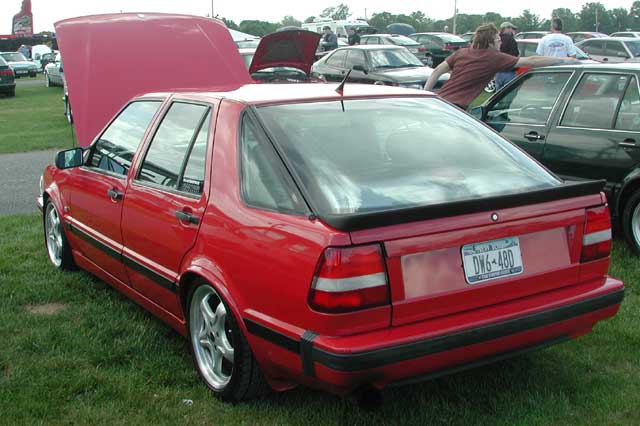 It looked nice on the outside too!
---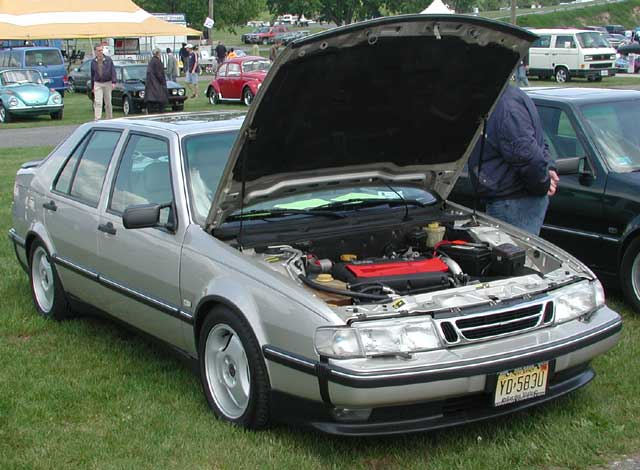 As usual, Rich Levy took 1st Place, People Choice for his 9K CS Ultra.
---
This paint scheme certainly leaves no doubt!
---
Many Viggens in attendance.
---
Black stealth Sonett III
---
Dr. Neil's late model III.
---
A great turnout of Sonetts this year.
---
They started with their tops down, then there was that brief cold shower...
---
SPGs all in a row, with one of the original pearlescent prototypes in the foreground.
---
A chance meeting at a highway rest stop for two 95s.
---
At the announcement of the people's choice awards.
---
Rally, anyone?
---
Spotted on the back of an SPG...
---
So it's NS, but these little Isettas were adorable. 4 perfect examples on display, just open the front door and step right in!
---