Despite dire forecasts in the days leading up to the event Saturday dawned sunny and warm, as perfect a Carlisle Saturday as I've seen.
---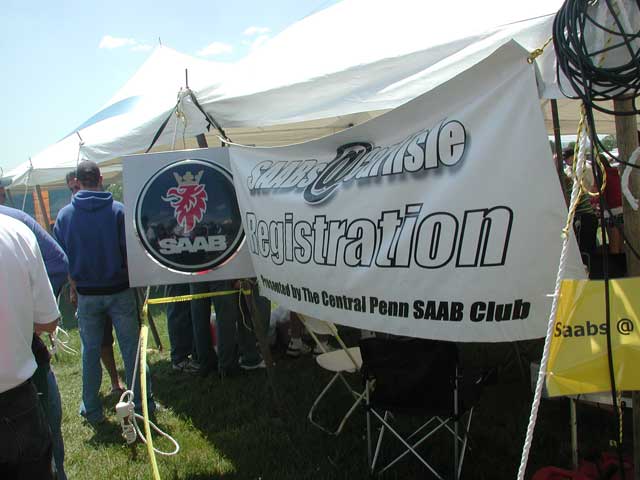 Central Penn SAAB Club makes this look so easy, yet there must be tremendous preparation is putting on such a smooth, well organized gathering. Kudos again to the club.
---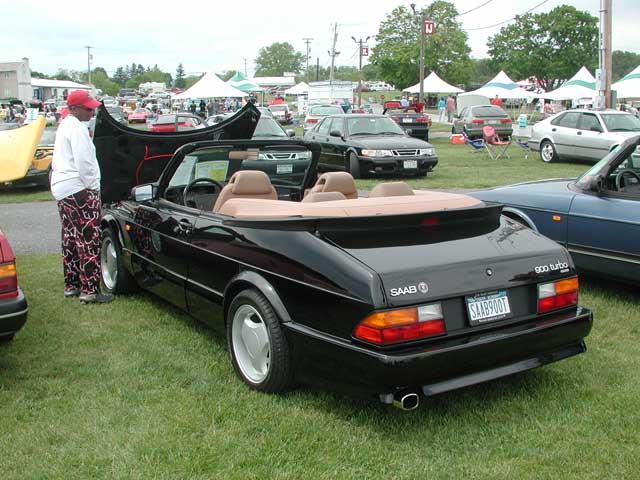 The best of the best, the cream of the crop, the best of show, the People's Choice winner as the car most people would like to drive home. Jonathan's beautiful C900 convertible. You've got to see it up close, and don't miss the headers. Turbo!charged? Oh yeah.
---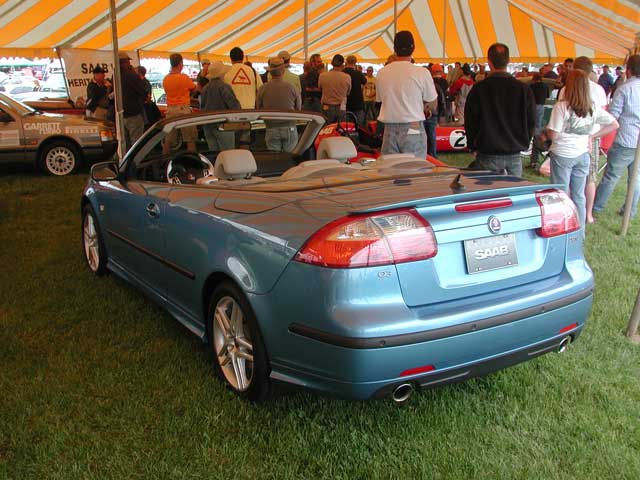 And Saab's current top of the line under the company tent.
---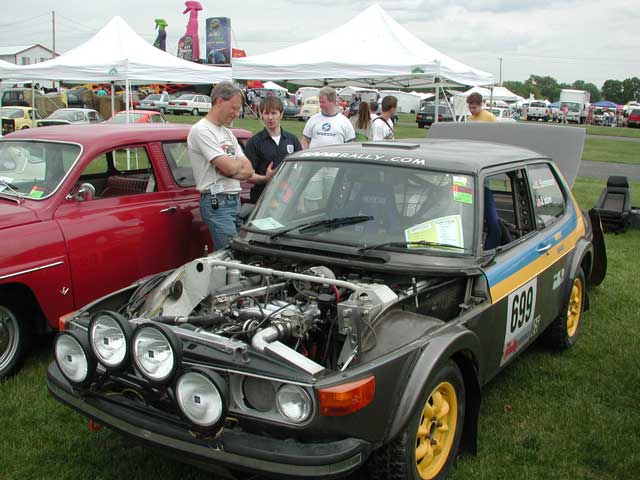 Gary Stottler and Luke Sorenson discussing weight savings obtained by using lexan rear windows, fiberglass trunk lid and kevlar hood, all built by Luke.
---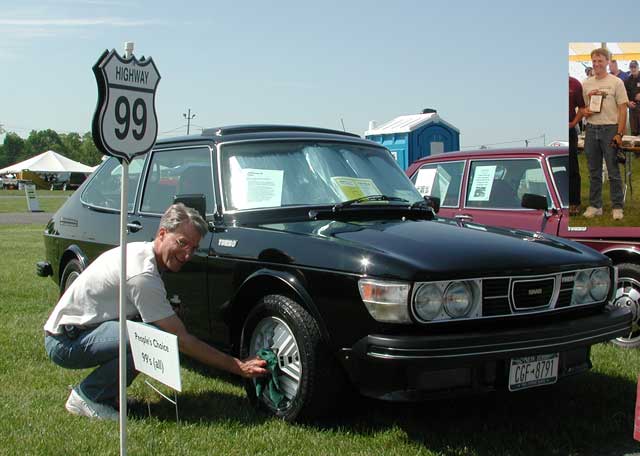 Gary Stottler said "Thor, don't you have enough pictures of my car? You can't take this too seriously, you know!" Note inset as Mr. Can't Take Things Too Seriously accepts yet another People's Choice trophy for his pristine black 99 Turbo!
---
The People's Choice Awards were announced under the GM Heritage Collection tent.
---
Todd's Turbo!charged Sonett III's Jack Lawrence widened Soccer Balls with polished rims. Lovely.
---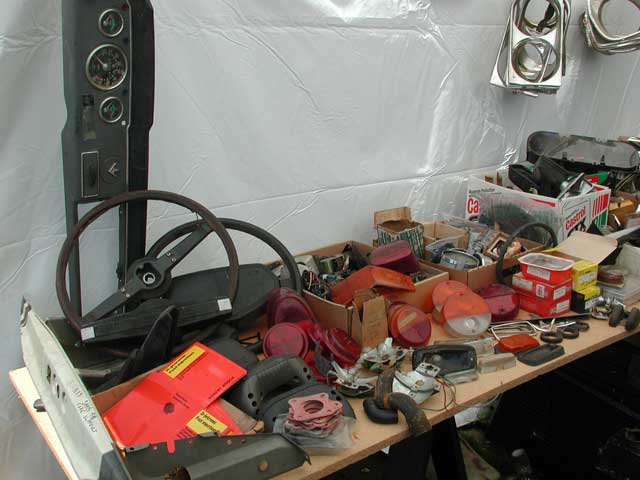 Need parts? Good swap meet this year.
---
Barber Saab under the heritage tent. In the background from left, new 9-3 convertible, '90 SPG in Talladega Red, Long Run 9000, prototype red '86 C900 cnvertible.
---
Nice vintage turnout.
---
Chuck Christ (L) and Marc Fails flew some parade laps to the delight of the crowd and the distress of the mosquitos.
---
More parade laps. Want to hear them? do you? Then
click here and turn it up!
(1MB, 23sec Windows WMV movie...)
---
Mike Grieco's two stroke '67 96 won first place, people's choice in the two digit (not Sonett) category. Note the window sign.
---

All 3 generations of production Sonetts.
---
Larry Feer's two tone 95.
---
Model 93 Ad car.
---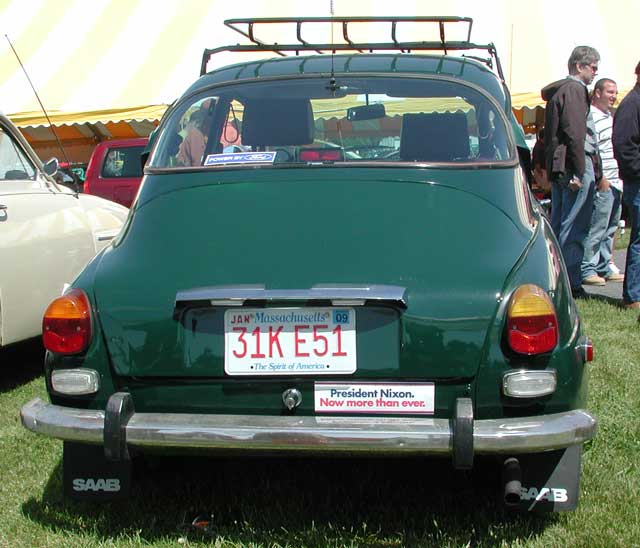 Politics rears its ugly head.
---
Linnea's SPG sported the "ja shure!" Swedish Chef.
---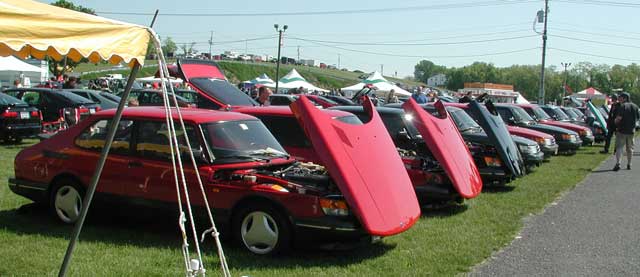 Lots of SPGs, no fewer than 5(!) Talladega red '90's in attendance. That's the Lambster's re-acquisition in front.
---
Quite a few 9-5s made the field.
---
Certainly, an appropriate day to drop tops. So many convertibles appeared that they overflowed into other rows.
---
1956 SAAB Sonett Super Sport, one of only 6 ever built. Read about Seth Bengelsdorf driving this car in the current issue of NINES (#287, May/June 2007).
---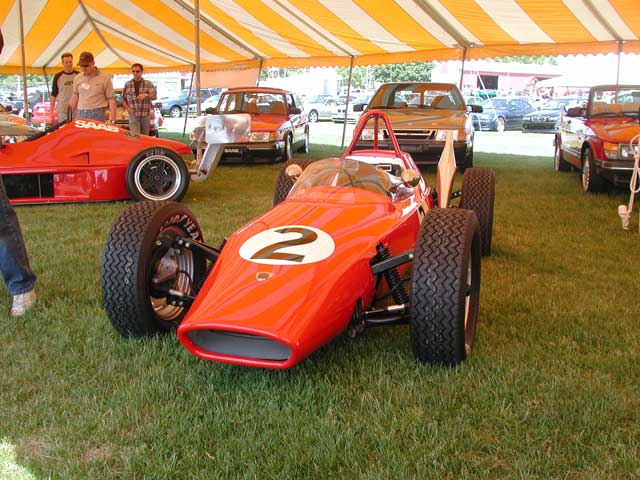 Quantum IV from the GM Heritage Collection.
---
So it's [NS] but really, who here wouldn't love to take this baby for a spin?
---