July 31, 2011: The patient was a 1993 SAAB 900 Turbo! convertible. A motorist pulled up at a stoplight to say: "You have no brake lights!". As it turned out, the CHMSL (cernter high mounted stop lamp) was working, but the main left and right brake lights did not. Bentley showed both lights on a common circuit so I dug into the tailight cluster.
---

On the driver's side, it was hard to remove the lamp holder assembly. The lower outboard brake light hole had melted and warped to an oblong shape that would not release the glass bulb. Finally had to pull hard enough to separate the glass bulb from the brass base. I removed the whole tailight lens assembly from the car and restored the melted hole to semi-round with a dremel tool.
---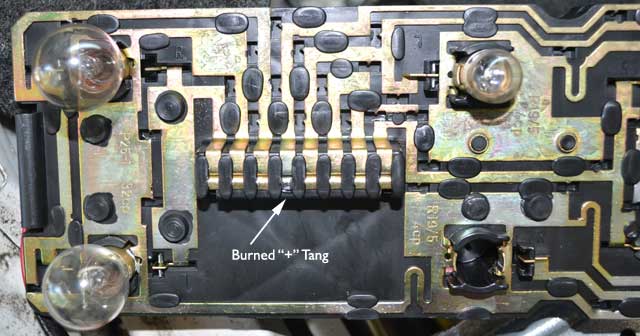 Positive tang on the printed circuit is supposed to be powered by +12v from wire 132b when the brake pedal is pressed. There was power at the back of the printed circuit, but no current made it through. This tang also transfers power to the right rear brake lights, so when this one failed, both brake lights failed.
---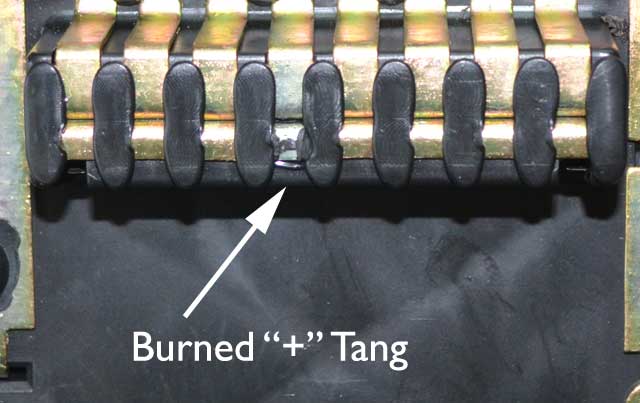 Close up.
---

In the past, I have seen a burned ground tang, but not a failed +12v brake light connection. Since I was in there anyway, I ran an auxiliary ground (black) and auxiliary power (reddish). This has resolved the brake light problem, and hopefully will prevent a future ground problem on the same cluster.
---