---
Love those SAABs!
We've been lucky to own a number of these unique automobiles. Here are some of them.
The Fleet
. On July 26, 2015, everyone was home, so a family photo was in order, especially since the last photo was taken in 2008. We're down now to three classic 900s and up to two 9
3
s.
The 93 Convertible. A very nice 2006 93 convertible and Anna's new daily driver. Around 127K miles.
The 93. A very nice 2006 93 Sport Sedan. 5 speed, Turbo!, Becky's daily driver. Around 102K miles.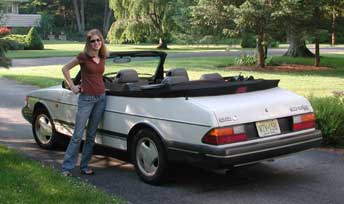 Maskerad. A '93 Classic 900 Convertible. Automatic transmission, around 195k miles, and the apple of this girl's eye.

We had a Brooklyn adventure in May, 2012 when this car was used for a film shoot for an independent film trailer.

See the web page with photos and movie trailer here/.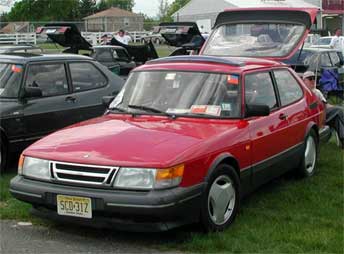 The Red Car, aka Handske. A Talladega Red '90 SPG and current daily (well, at least on sunny days and not in the winter) driver. Mileage? Unknown. Paint? Just a nice as it looks. The 1990 SPG Special Performance Group was somewhat sportier than the run of the mill SAAB Turbo!. Lowered suspension, stiff ride, 175HP and all the luxury goodies of the day make this a fine car to own and drive. And there is no rust. Upgrades: Factory red APC box. That's it.
Komfort, a '93 9000 CSET in Scarab Green. At around 205,000 miles this comfortable highway cruiser soldiers on but is showing its age. 5 speed gearbox, 200HP and all the luxury goodies you could get at the time.
Fantom, a 1991 900 base car. My daughter bought this one for herself, a fine car for a new driver. When the '93 convertible caught her eye, I had this one converted to a 5 speed. Fantom is my winter driver while Handske, the Talladega Red SPG stays in out of the salt. Great fun to drive although sadly, the tin worm is having its way. About 188k miles.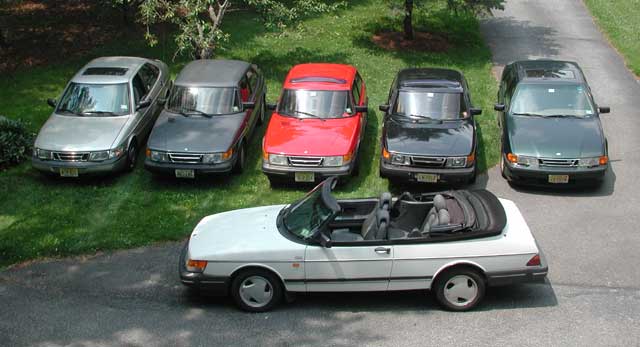 The Fleet. On June 28, 2008, everyone was home, so a family photo was in order. This photo of six SAABs, including four classic 900s was taken standing on the roof of our home.
Gone, but not forgotten...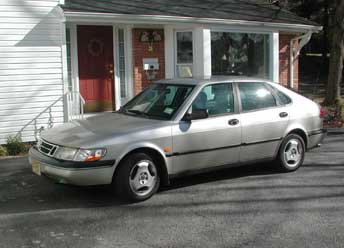 A 1997 900 S purchased in March 2008 for college use.
Hammare! 1984 Turbo! with over 320,000 miles at the end of my stewardship.
We just could not keep pace with the tin worm any longer.
Hammare's Makeovers:
Interior
Front Trim
Hammare vs. the blizzard of '03!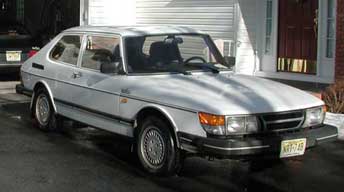 "The Project", a 1986 900S automatic "given" to me with a bad powerplant; luckily, my friend Duane Dostie donated a spare engine. When I was unable to complete the job due to health issues, Duane and Larry West, aka Wedge and Lars, came to the rescue. In a marathon one day session they helped me install the donor engine and get back on the road. My son and daughter both learned to drive in this car. Retired in 2006 after multiple organ failures. R.I.P.
"?", the former George M SPG. A beautiful '86 SPG, my daily driver from 2001 to 2005, sold to make way for The Red SPG.
A tale of acquisition, loss and renewal

Mjollnir, my daily commuter until an untimely event in March, 2000. A 1986 SPG, a 900 Turbo with Special Performance Group. Special performance, in this case, consists of fancy alloy wheels, ground effects bodywork, sport shocks, springs, and all the interior goodies such as leather, power, sunroof, etc. The turbocharged 2.0 liter 4 cylinder is rated at 160hp. Photo: 1997 - Larry West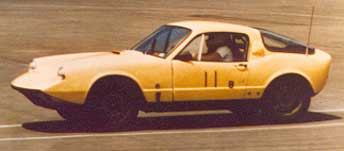 This 1967 model 97, or Sonett II, was my autocross car. This example is serial number 000198 out of a total of 258 built. Powered by an 841cc three cylinder two stroke, this car came with the peaky GT engine, oil injection and triple side draft carburetors and was rated at 60hp. It had dual exhaust pipes (leading to a single muffler) and front disk brakes. The body was fiberglass. This car topped out at an indicated 102 mph at redline in 4th gear (a four speed on the column!) and saw extensive autocross use in the late 70's. This picture of the car at speed was taken at Rockland County Community College. Owned, loved, and driven for 16 years, it is now in the hands of a Milwaukee collector who PROMISES to restore it.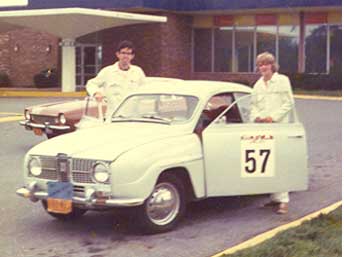 A 1966 model 96 and my first SAAB, this was my rally car. Powered by an 841cc three cylinder two stroke triple carb engine producing 42hp, this car topped out at around 80 mph with a tailwind. The picture was taken at the start of the 1975 MG Car Club International 1000 Rally. That's yours truly at the driver's door, many years ago.
Ca. 1985, washing the '78 99 EMS, one of my favorite SAABs ever.
Ca. 1986, washing the '83 900 family sedan with the '78 EMS to the right.
The stable in May '84.

1983 900 sedan, 1978 99EMS and 1967 Sonett II #000198.

The '83 sedan remained in the family from new until it went to Valhalla and worked well as a family car, with babies, car seats and a large trunk.

The '78 EMS was a fine, fast and wonderful automobile: one of my favorite cars and one with which I parted way too soon.

The Sonett was sadly neglected during the early family years...
prada spring 2023 factory online stores banning chatgpt new instagram gain followers prada sport sandals construction commercial yellow prada purse prada sport glasses cream prada bag mixed branding strategy tomogachi prada 08ys sunglasses instagram followers report define prada 6111 n.river rd.rosemont il 60018 prada rose perfume gucci clothing line prada arca lyrics tomogachi wig cap colors prada blouse scottish corners tienda tommy cerca de mí gucci e commerce cork board on wheels chatgpt stand for prada computer bag women's prada necklace prada discount code brice mcmillan chatgpt 免费 prada denim bra prada mini tote prada vest women's yacht captain uniform kiran patel high school detail concepts waterford pa prada tenis mujer prada tropico captain shirt with epaulets catalina island visitors guide chatgpt for business prada nose pads prada gift cards ugg mini blakely suede bootie prada cropped jacket garth brooks maria christmas song women gucci com camisa prada hombre chatgpt dan reddit jack spade fulton leather messenger bag instagram scrape followers tamagotchi pet rosemont brunch prada singapore prada cloudbust outfit prada homes jude and i construction prada mule heels chatgpt lawyer how to make a fake mustache stick iko nordic colors aws chatgpt gucci america inc instagram followers disappearing chatgpt marketing premium shopping outlets cass x prada dior outlet online prada computer bag instagram 3000 followers instagram followers like carteira gucci ember fine jewelry restaurants near 60018 chatgpt mba belle & bloom carbon prada cologne prada shoes boots prada pr 16ws prada sungless prada bandoliera chatgpt salesforce prada bag authentic prada shearling bag authentic prada bags prada sneaker green chatgpt programming night of the puffings black prada flats prada puffer boots slatestone gray shingles on house element design build remodel prada shearling sneaker prada buckle bag prada shoes green chatgpt blog prada mens underwear prada sunglasses discount gucci fr prada australia prada sunglasses circle pin boards large element construction pink prada slides prada facemask
Please send comments (esp. dead links) to: carlsonthor (at) gmail (dot) com
Thor's SAAB Portal | Thor's SAAB Owners' Convention Pages| Thor's Carlisle Pages | Thor's Past Events Pages