SAABtoberfest 2K+2!


October 5, 2002



This might be the best SAABtoberfest yet. Warm temperatures, brilliant (mostly) sunshine and convertibles, convertibles, convertibles with not a top up in the lot.

With beautiful Pennsylvania countryside, mostly deserted rural roads (once out of Wilkes Barre), and gorgeous scenery, Lee and Alan outdid themselves. Well done and thanks!





Eurotech kindly opened their shop and supplied complimentary coffee and donuts while the 'festers lined up for registration.




Probably Wilkes Barre never saw this many SAABs, stuffed into every parking place and parking lot prior to the start.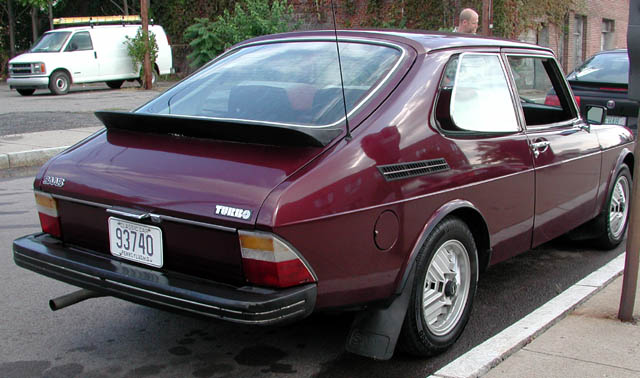 A nice 99 Turbo!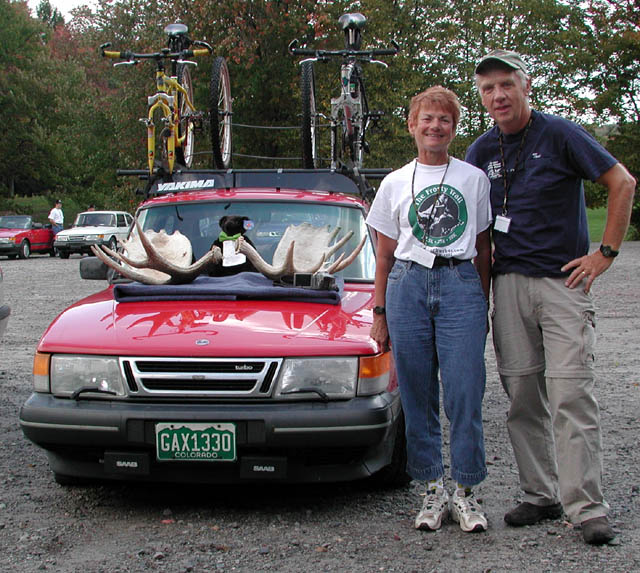 Avis and Tom Nelson of Colorado(!) on the return leg of their vacation camping trip in Nova Scotia. That's Avis' SPG, Tom's antlers and both their mountain bikes up on the roof. Avis and Tom were awarded the SAABtoberfest long distance award this year.

Christine Krueger was also recognized at the lunch break for making the 800+ mile drive from Atlanta to SAABtoberfest for the 4th consecutive year. See Christine on the SAABtoberfest 2000 page.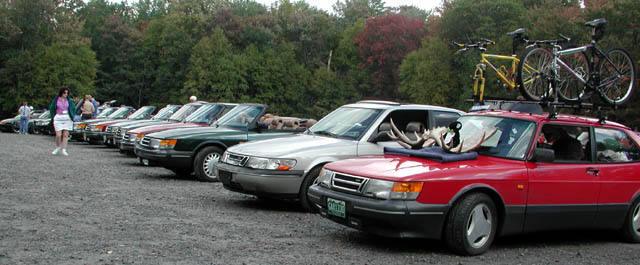 Part of the lunchtime lineup





More of the lunchtime lineup





Scroll right -> that way -> to see more of the lunchtime lineup




There were also some parts available at the lunch break.






---
For the second consecutive SAABtoberfest Renwick Jones' C900 convertible won:

The Highly Coveted Drool Bucket Award

Voted by SAABtoberfest attendees as the car they would most like to drive home.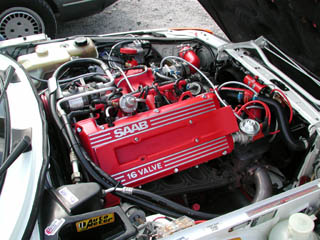 Engine room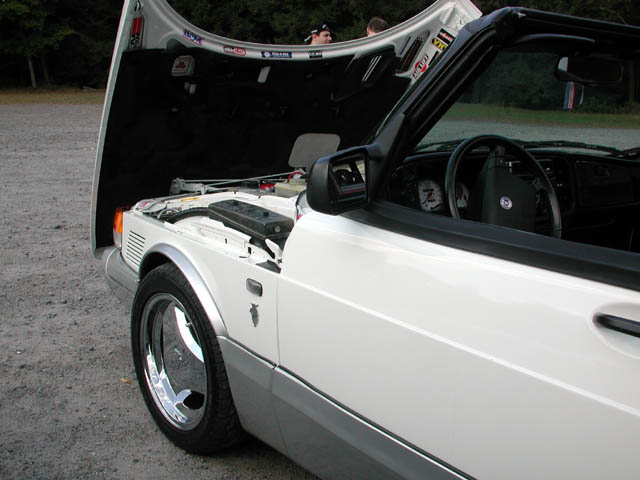 Fender (Propowski) Vent, chrome plated 3 spoke wheels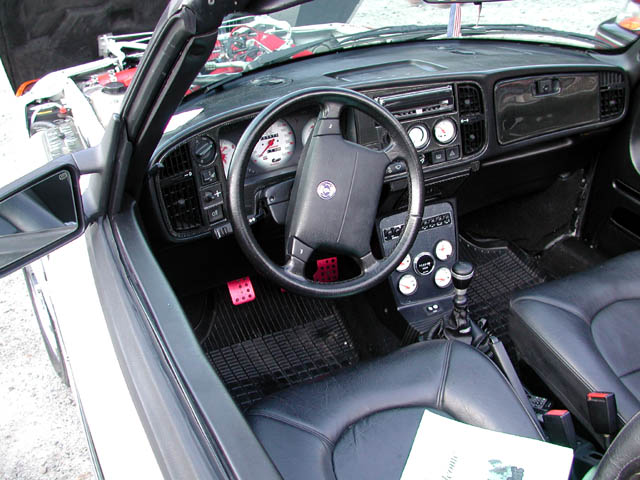 Gauges, carbon fiber instrument panel, dash mounted DVD player and color matched door/interior panels.




Renwick and the 2002 drool bucket winner


---


A nice Connecticut convertible




Springtime in Sweden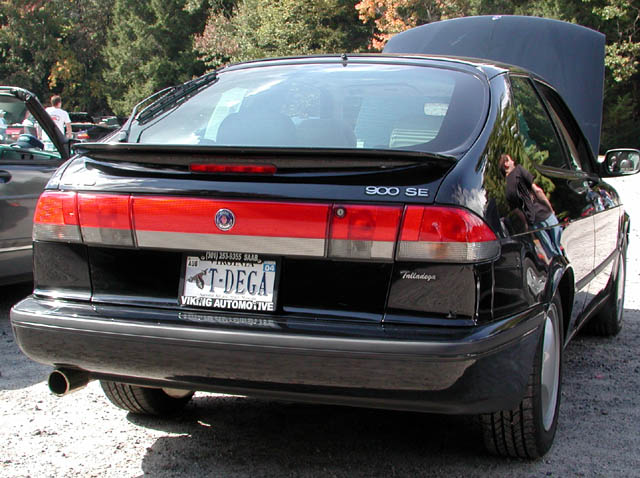 Talladega Edition New Gen 900




I think this was Dirk Feather's custom brakelight.




Nice red C900 CV




Tom2: Nelson(L) and Cox(R)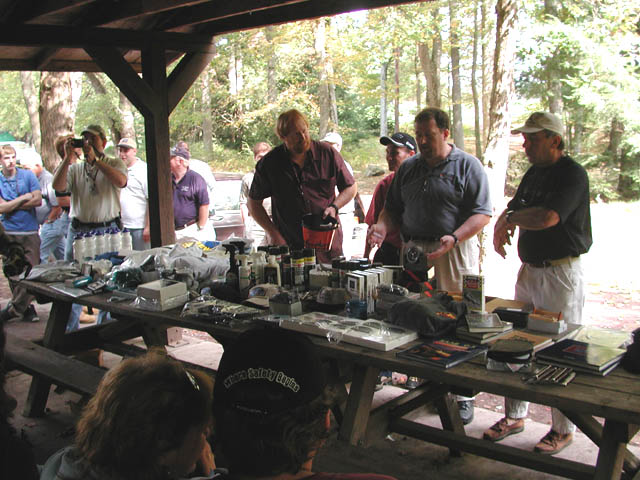 The groaning lunchtime raffle table with so many giveaway goodies that most particpants received 2(!) prizes. From left that's Lee, Larry and Alan.




Lining up for the afternoon leg.




The Soros' are ready in their '93 CV.





Group 3 waits patiently for the call




Tour's end at the Lookout House featuring beautiful views and end of day victuals for hungry 'festers.




Kevin Quigley shows his dead rebuilt Turbo!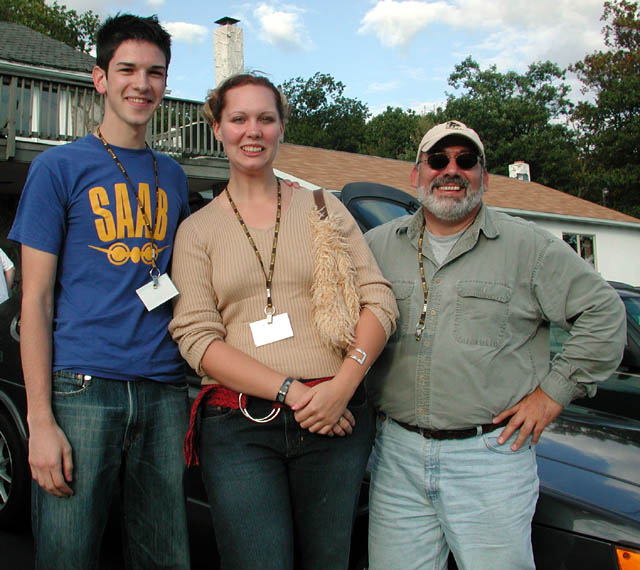 From left: Ian, Tamara and Dennis.

Dennis "made" me drive his '89 black C900 Turbo! 5spd convertible all day. It was a tough job, but I managed it!


---
Enjoy some images from past tours!


---
Back to Thor's Page
Visit SAABTURBO.COM